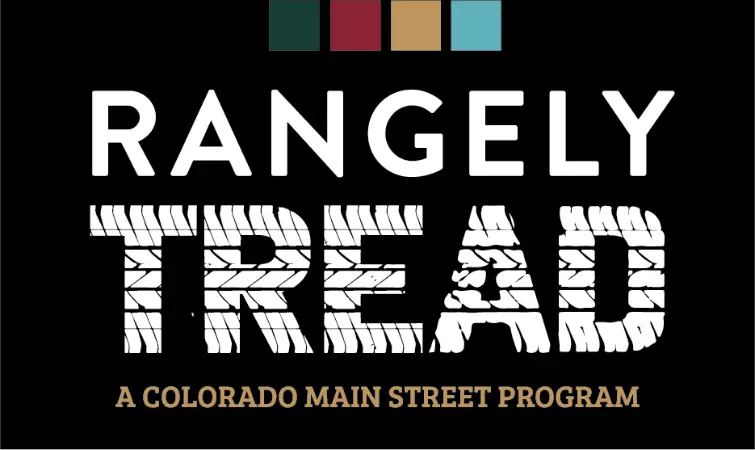 TREAD
In August of 2020 the Town of Rangely was officially made a Colorado Main Street community.  We feel fortunate to be one of 25 communities who hold this title.
The Colorado Main Street Program offers support for community-led downtown revitalization through the following four-point approach and focus:
Economic Vitality
Design
Promotion
Organization
With proven revitalization strategies and needed organization assistance, communities identify and leverage opportunities and resources, one step at a time, to achieve goals. 
TREAD consists of an Executive Director, 4 Board Members and 3 Advisors.  Meetings are held monthly at Town Hall.
About TREAD:
Our Mission:
TREAD is devoted to working together with the community to preserve our small-town identity while developing a vibrant downtown attractive to residents, businesses and tourists.
Our Vision
TREAD invites diverse partnerships to drive economic resiliency, promotes power of place, and enhances the quality of life in our community.
Board Members

Jeannie R. Caldwell, Executive Director

Jeannie is also employed with the Town of Rangely as the Marketing Coordinator.

Marybel Cox, Treasurer

Marybel is the Clerk/Treasurer for the Town of Rangely.

Karen Reed, Member

Karen is the owner of Raven Realty which is located in the Town of Rangely.

Stephanie Talbot, Member

Stephanie is employed with the Rangely School District.

Janet Miller, Advisor

Janet Miller is employed with the Town of Rangely as Horticulturist/Arborist.  

Jocelyn Mullen, Advisor

Jocelyn Mullen is employed with the Town of Rangely as the Town Engineer.

Lisa Piering, Advisor

Lisa Piering is employed as the Town Manager for the Town of Rangely.

 

2023 Main Street Agendas & Minutes

August 30, 2023 - Agenda
August 30, 2023 - Minutes

May 2, 2023 - Agenda
May 2, 2023 - Minutes

March 2, 2023 - Agenda
March 2, 2023 - Minutes

TREAD By-Laws & Board Member Job Descriptions

Five (5) Year Strategic Plan - 2023-2028

Social Media

Upcoming Events & Projects

Colorado Quarterly Main Street Newsletter

The Main Thing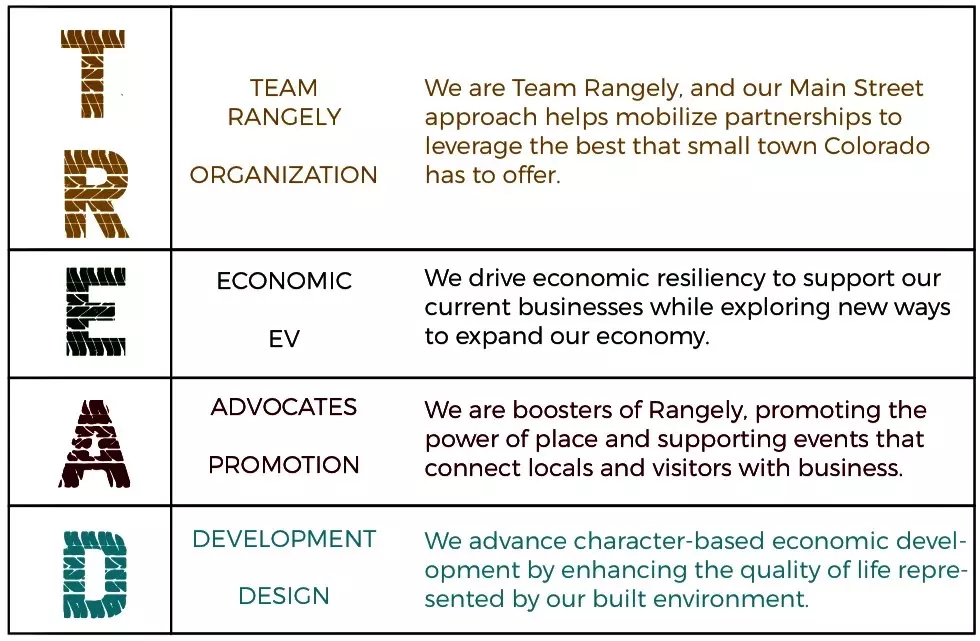 VOLUNTEERS NEEDED!
Rangely needs VOLUNTEERS!  Volunteers to serve on Boards, in the Community Garden, for large events, to only name a few.  An hour of time makes a huge difference.  You might ask, "How does volunteering help make a difference?"  Our response, "Unpaid volunteers are often the glue that holds a community together. Volunteering allows you to connect to your community and make it a better place. Even helping out with the smallest tasks can make a real difference to the lives of people, animals, and organizations in need.
BE THE GLUE IN RANGELY!
The Town of Rangely, TREAD, Rangely Chamber and the Western Rio Blanco Metropolitan Recreation and Park District are collaborating to make volunteering simple.  Simply follow the link below, choose how you would like to volunteer, complete the form and submit.  It really is that easy.  A great way to help the community and make new friends!